So I've decided to share a favorite story of mine, about a carefree time in my life where all that mattered was music, traveling, friends, and having all the time in the world to do whatever it was I pleased. When is this time? College! Obviously. When else can you have all the freedom in the world? When your only responsibilities are going to class and getting your work done. After that, you're freeeeeee.

Which brings me to my senior year of college. I was living in Burlington, Vermont where I attended Champlain College. My roommate and partner in crime, Alex, had agreed to come with me to meet up with some friends and head on over to the Higherground to catch two bands – Brother's Past and the New Deal. While at Brothers Past, I fell in love with them even more than before…it was one of the best shows I'd seen, due to the fact that they played a set that really triggered a sensitive spot in both Alex and I. We were both going through really rough breakups at the time, and it felt like the band was playing out the soundtrack of our lives. We were broken, and the band was putting on a show that was putting us back together. It's amazing how music can really help you heal. ANYWAYS, after Brothers Past had finished their sets, we traveled on over to the other room at Higherground, where the New Deal was playing… where we just danced like mad for the rest of the night! (For those of you who don't know about the New Deal, below is a video of them playing so you can get a feel for what I'm talking about)…




So after both shows were over, we were talking to the Merch guy for Brothers Past. A friend of mine had known him for a while, so he invited a few of us backstage. The band and crew were all very friendly, and had the same sense of humor as my roommate and I… so the entire night was full of wine and laughter. When the night was coming to an end, the guys had invited us to go to their show the next night, which was in North Hampton, MA. I told them we would only go if they played our favorite song. They agreed, and also offered to put us on the guest list, as well as a place to stay.
The next morning, Alex and I thought about it. Did we feel like driving down for 3 1/2 hours to see them again? On about some-to- no sleep? Umm… YEAH. Plus, we are both from MA, so it gave us an excuse to go home and see our families. On our drive down to MA, we popped in their album "A Wonderful Day", and got lost in conversation, anticipating the show to come…completely forgetting about whatever troubles that might have been haunting us.

When we arrived at the show, we were invited back stage to hang out with the band. It was an old, tiny, dank room with signatures and drawings plastered all over the walls, from previous bands who had been there before. We could all barely fit in there. As I sat in this closet of a room, I tried to take everything in… using all my senses, so I could have a clear memory of this experience. I knew that I would never want to forget it. Their tour manager then arrived to tell them it was show time. Alex and I told the band to have a great show and left to find a good spot in the audience, front row center. During the first set, they began to play the song Alex and I had asked them to play – A Wonderful Day. It's an amazing feeling when one of your favorite bands plays a song that you know was meant for you. The band kept the momentum going all night, leading to one of the most memorable Brothers Past shows to date (It was 9.9.05).

Here is a video of the band playing a favorite song of mine "Simple Gift Of Man", from their 4.21.06, Philly show.



After the show, we hung out again backstage with the band, and were once again invited to see them play in Southbridge, MA the next night. At the end of every show we told ourselves "Okay, this is the last one. We have to go back up to school." But… the band had a way of convincing us why it was absolutely necessary for us to go to their next show…and it didn't really take too much convincing!

The next morning we met the guys for breakfast at a real delicious, top notch restaurant…Dennys. Mmmm. Below is a shot of me and Tom (the keyboardist) hanging out outside of the diner...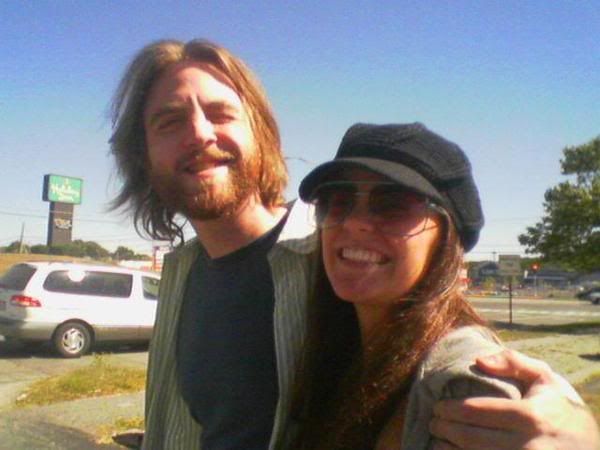 From there, off we went to Southbridge, MA to the Mill Street Brewery. We ran into the tour manager, who brought us backstage. Free drinks, a pool table, and a few really laid back, genuinely nice people. Not too bad. It wasn't this huge rage fest with a lot of groupie-like girls hanging all over the band going crazy, (which is what some peoples conception of what hanging out with a band is like). It was just a group of friends hanging out and having a good time. I've really never laughed so hard, everyone there was so halarious!

When the band went on stage, Alex and I made our way to the front and center again. We ran into a few friends of ours that we bumped into the night before as well. But this time, there was barely anyone there. The venue was new, and in the middle of nowhere, so it was like my friends and I had our own private show. We loved it. There was alot of room to dance, incredible set list, incredible jamming, incredible spacious venue, incredible improv… incredible, incredible, incredible.

After the show was over, Alex and I went out to the car to grab some goodies we bought for the band. We figured since they were so nice to us and so hospitable, that we would buy them some cookies from our favorite pastry shop near our hometown. They were very grateful. They opened up a bottle of champagne, and we all celebrated until they finished packing up their equipment. We exchanged big hugs goodbye, and went our separate ways. They had to be in PA for their next show, and we had to get back to school, and back to reality. It was such a great experience… to be able to hang out with my best friend and one of our favorite bands for a few days. To be able to sit with them, talk to them, get to know them. I got to ask them the questions that I always wondered to myself. What are they thinking about when they are up on stage? What inspired them to write a certain song? What are their methods for writing music? Now if only I could remember what they answered! I felt like I was a character in Almost Famous… getting to talk to and spend time with one of my favorite bands, traveling with them, and befriending them… we joked that we were their "BAND AIDS", inspiring the band and being there entirely for the music... It's all happening!




Here's a picture of us with some of the band and crew members. (From L to R, Greg (Merch), Rich (Soundguy-kneeling in front), Tom (Keys, Vocals), Me, Tommy (Guitar, vocals), Alex, and Pete (Tour Manager)